The 2010 Golden Globes were a magical night of glitz and glamour. Award show season is upon us and many of your favorite celebrities took to the red carpet in high-style. I really adore the red carpet at the award shows because it's reminiscent of "old Hollywood." One of the most gorgeous actresses (inside and out) that I have ever met was Lucille Ball at the 2oth Century Fox dining room in LA. I was a very little girl at the time, but I remember walking up to her and feeling that Hollywood magic. Lucille Ball embodied grace, humor, elegance and an ability to laugh at her own ridiculousness — true traits for today's fashionista. My father worked in celebrity PR at the time and it was an unforgettable experience. That same magic translates to the red carpet when the celebrities of today get all "dressed up" and wow the world with their unforgettable style. Now, for Daily Fashionista's hits and misses for the big night!
 
Best Dressed: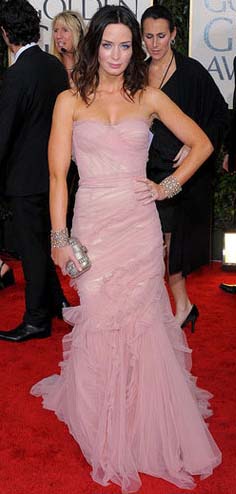 Emily Blunt in a blush pink Dolce & Gabbana frothy gown is one of our best-dressed. We love the way the bodice is fitted and the way the chiffon layers are draped leading down toward the soft ruffles at the bottom. The dazzling silver Loraine Schwartz cuffs add-edge to the look. Her soft-tousled hair and fresh makeup complete this romantic ensemble. Style rating: We are smitten.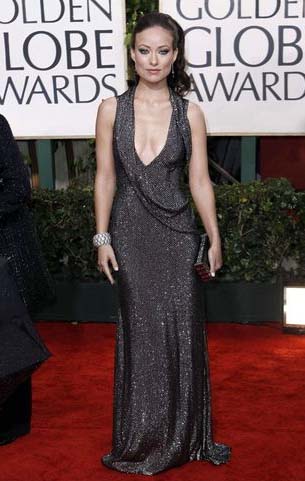 "House" star, Olivia Wilde opted to pass on a soft-romantic look and go for something bold, fun, young and cool. The plunging neckline on this Gucci gunmetal dress is no-doubt a stunner. Judith Leiber clutch, slicked high-ponytail, dramatic-eyes and Tiffany diamond cuff finish off this fashion masterpiece. If you got it, flaunt it — as this is done in a tasteful, sexy yet chic way. We also heard the actress will be auctioning off this dress and the proceeds will go towards Haiti relief. We love that! Style rating: Liquid silver goddess – who makes grown men cry.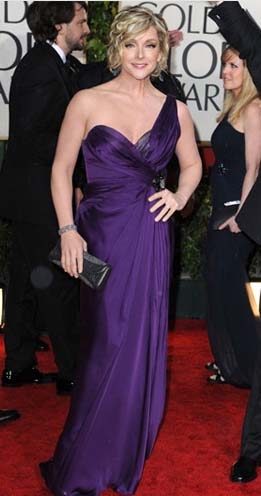 Another popular trend was regal purple tones on the carpet. Jane Krakowski looked striking in this one-shoulder creation by J. Mendel. Jane has worn J. Mendel before, but this time she really lit-up the carpet, ladies! Her softly curled hair framed her face and she let the dress be the showpiece by keeping the rest of her accessories to a minimum. Style rating: Ravishing royal style queen.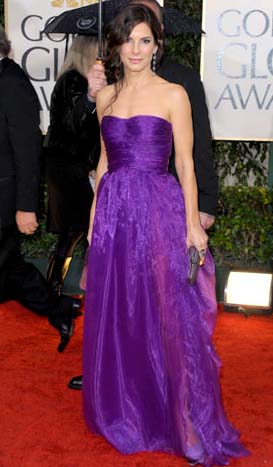 Sandra Bullock in our eyes stole the night! This Bottega Veneta purple organza gown is just breath-taking. I know some of the fashion critics out there disagree, but I truly love this look. We actually like the sheer parts to the dress, because it makes it more visually interesting. The color is striking and Sandra is a sweetheart. As we reported previously, she just donated $1 million dollars to Haiti, which goes straight to medical-aid. Style rating: Showstopper.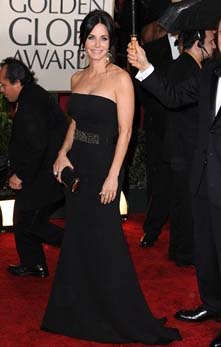 The lovely Courtney Cox opted for black, sleek, stylish. She is on our best dressed list as well. Courtney is actually wearing a Victoria Beckham(Posh Spice) designed dress. This simple black crepe gown has an ultra-flattering silhouette. Bejewled accents at the waist is a big-trend for the Spring/Summer and into the Fall 2010 season. We think Courtney looks rather alluring. Style rating: One hot friend.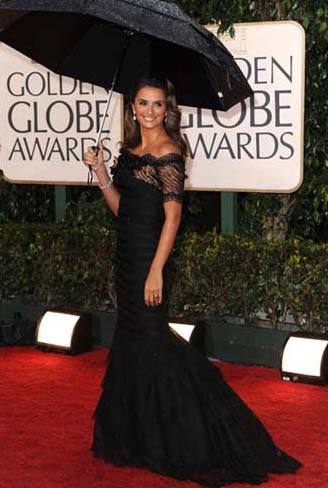 Penelope Cruz began her interview on the red carpet by joking around that unlike P. Diddy — she carries her very own umbrella. Well, her Golden Globe look was no joke! Penelope looked like a vision of true beauty in a dramatic, black lace Giorgio Armani Prive gown. I wish I could look this good holding an umbrella! Not to self: buy some more black lace! Style rating: It's raining diva.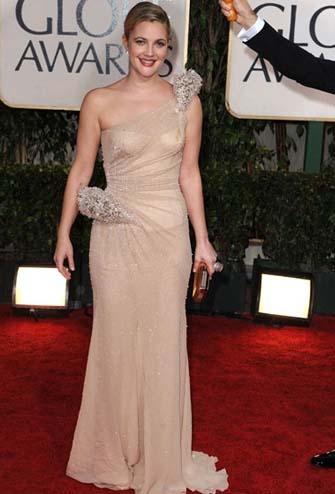 Oh my god! I absolutely worship Drew Barrymore. She's a comeback queen like no-other and just sparkles in this high-fashion couture masterpiece by Atelier Versace. I'm speechless, really. The slicked-back hair, crimson lip and understated-accessories are utter perfection! Style rating: Golden Globe gorgeous.
Worst Dressed:
Although, I usually like to keep Daily Fashionista in a more postive light — sometimes you need to experience the bad, in order to appreciate what the good is actually really like. Such is life and fashion. So here we go, ladies.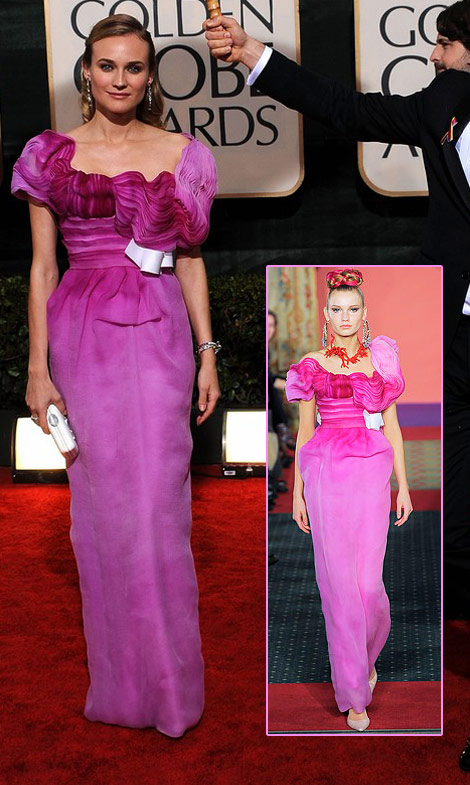 In order to soften"the blow" it sometimes is good to state a positive first. So, I will say that the Christian Lacroix dress that Diane Kruger wore was couture and artsy. On the flipside, I thought it looked as if the dress was wearing her. Even the bright color seemed to over-power her delicate features. She is such a natural beauty and although the hair and makeup were flawless — the dress I think was more runway than red-carpet. Another plus, her boyfriend Joshua Jackson is adorable! Style rating: Prom gone bad.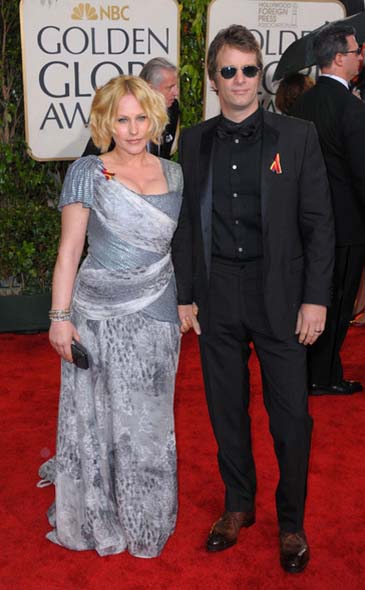 We love her in "Medium", but even a seance isn't going to help this ill-fitted fashion-look. Ok, the positive is that they are both wearing the Haiti relief ribbons, but that's all I can draw out of Patricia Arquette's red carpet appearance that is well, good. The color of this gown is drab, the cut is way off, the mix of textures is confusing! Style rating: Drab not fab.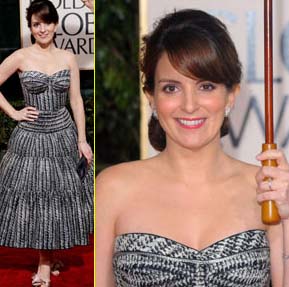 Tina Fey is a brilliant comedic fashionista, but her style choices fell by the way-side. Tina, time to get a new stylist. Daily Fashionista would have dressed you in a more va-va-va-voom look — like screen siren Hedy Lamarr. Even Tina's Zac Posen dress and Louboutin bow-accented shoes could not save this look. Style rating: It's no joke – no smiles either.
Heartthrobs:
 Ahhh to be 16 again — well, the cold harsh reality is we really aren't. But that doesn't mean a fashionista still can't style critique these handsome hotties! It is okay to look – right!?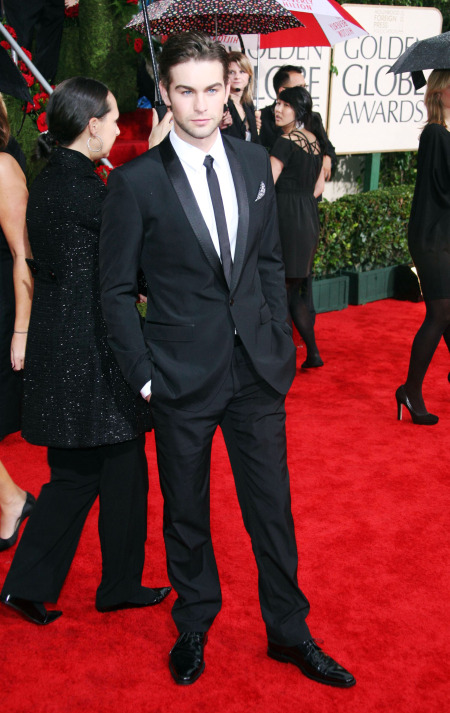 Cutie, Chace Crawford looked rather dapper in a Dolce and Gabbana suit. We love the pocket square, his shining eyes, sleek (non-guido-like)hair and cool-vibe. This Dolce suit is tailored to perfection. Men, take note! Style rating: Gossip girl swoon.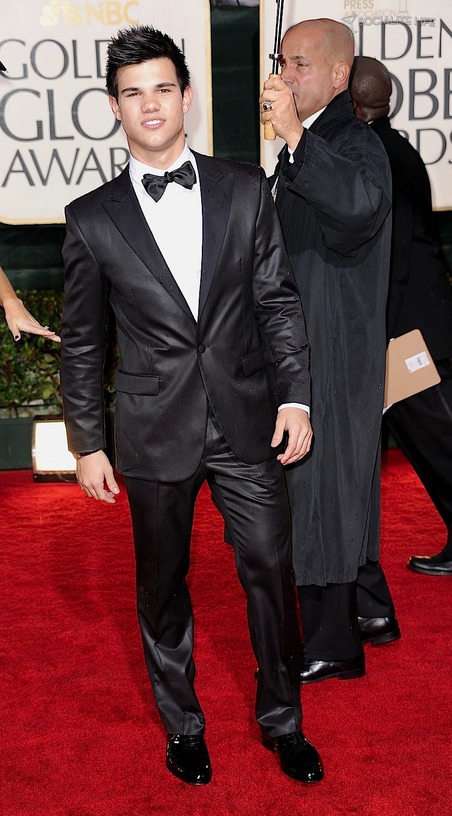 I mean what else is there to say, except Taylor Lautner is gorgeous– incredibly gorgeous. There have been varied opinions on the sateen material choice of the suit — sorry but this guy could wear a paper-bag and still look perfecto. Designer Louis Antonio created this suit. Style rating: Too hot to handle!
Best Dressed Man: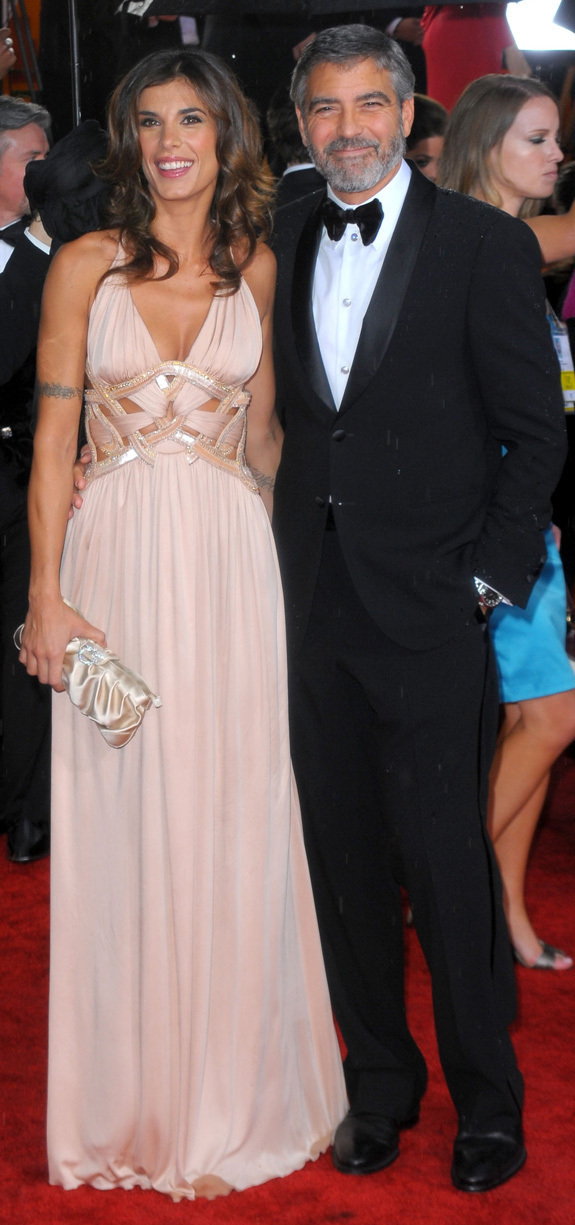 Maybe perpetual bachelor George Clooney has the right idea when it comes to relationships — you have to know when to hold 'em and when to fold 'em. Well, his fashion choice for the night was clearly a hand well-played in Armani. George took some time away from planning his Haiti telethon, scheduled to air the 22nd, to attend the Globes. His girlfriend, Elisabetta Canalis glowed. Clooney is the man! Style rating: Suave, suave, suave.