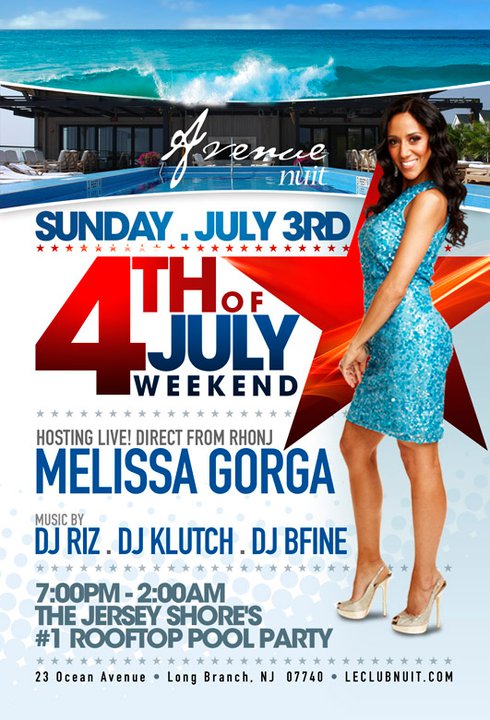 With the July 4th holiday weekend approaching many ideas are flurrying through our minds — where to go, what to wear, where to eat and what to drink!! Well, I have the inside scoop regarding one of my favorite NEW– New Jersey Housewives. I really like the new Real Housewives of New Jersey star, Melissa Gorga. Why? Because I've met her in person at several events and she's really sweet, intelligent and funny (not to mention drop-dead gorgeous).
Here's the scoop: For all of you RHONJ admirers, Melissa Gorga will be appearing and hosting the beachside festivities at Long Branch hot-spot Avenue – LeClubNuit. On Sunday, July 3rd from 7:00pm-2:00am an exclusive Rooftop Pool Party like no-other will take place!! I can't wait to take a much deserved break and get to see the stunning Melissa once again! What will she be wearing? Something from REVE Boutique perhaps and accessories from The Sassy Shop Girl (some of her favorite shops).  See you there, everyone!! What to drink? I'm sure the bartenders at Avenue's Le Club will serve up something delicious like a glass of Veuve Cliquot with the generous hand they pour with!! See you there, everyone. Also, enjoy the video footage I recently took of Melissa Gorga in a Marisa Kenson dress at a recent Reve-Boutique soiree! Oooh-la-la, Owwww!!
You can hear my voice saying, "looking gorgeous" during the packed
Reve Boutique
,
Marisa Kenson
,
Dina Manzo
event!! This was some quick video footage I took of her sizzling Marisa Kenson dress!!
Dana Prigge' of Daily Fashionista with RHONJ star Melissa Gorga