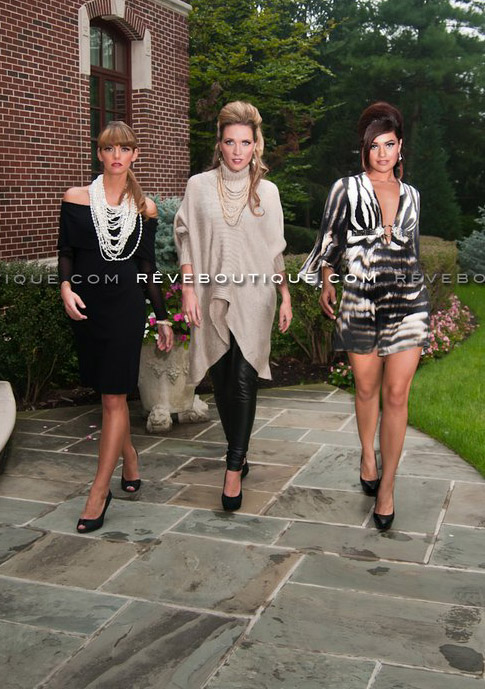 The truest form of flattery is when names like Lil Kim, Countess Luann of the hit television show "Real Housewives of New York," Dina and Caroline Manzo of TV's "Real Housewives of New Jersey" and other stylish celebrities acclaim the talents of the rising young fashion stylist known as Meital B. Familiarize yourself with this name, fashionistas, she's someone you want to get to know! Amazing things are in store for this lady whose creative talents have been seen in top publications like US WEEKLY, major television commercials and upscale magazine photo-shoots.
Says Meital B.; "What's hiding in your closet? Whether you're hoarding expensive designer mistakes or cheap impulse buys, it's time to come clean." Celebrity stylist Meital B., founder of ReveBoutique.com, represents a one-stop online shopping destination for discerning fashionistas everywhere. She utilizes her unique style skills to edit, refine, recycle, reorganize and rejuvenate your current wardrobe.
Meital B. begins her wardrobe consultation with the fashion client directly involved. She doesn't insist that a person buys an entirely new wardrobe. She simply wants you to discover better ways to wear your current one — sans a few regrettable items that could easily be contenders on What Not To Wear. This fashion expert pares down the excess clothing in your closet to create an uncluttered space with wearable looks that bring out the best of the inner you! Once your closet is unburdened of excess clothing you hardly ever wear, Meital B recommends that it's high-time to invest in quality items that never go out-of-style!
According to the Meital B. philosophy, one of the best rules for buying is "cost-per-wear." While a $600 pair of snakeskin thigh-high boots might make you feel like a million bucks, you're sure to only wear them a brief portion of the year and only with certain out-fits. However, a $600 winter coat that's both warm and chic can be worn almost daily for nearly half the year. This coat can be worn with almost any type of attire. It's the same price range for either item, but the coat's "cost-per-wear" clearly makes it the better investment piece. As founder of ReveBoutique.com, Meital B. is far more than just a fashion stylist. Her range of talents put her in a very special category. The audience she serves is a wide range of discerning women, who want to present themselves in the best possible light. Meital B. will shop with you at "J-Crew to Badgley Mischka" and everywhere in-between. She works with an impressive group of celebrity clients within the metro-NY area who know they can count on her for the latest and greatest in fashion! She believes that style staples mean something different to everyone. Finding a perfect t-shirt brand is a top priority for some, while others focus on purchasing the perfect vintage cocktail dress. No matter who you are, Meital B. has the fashion insight and resources that are to-die for! If you want the fashion experience of a life-time from a genuine expert, you can visit her online boutique www.reveboutique.com. For a one-on-one style consultation contact Meital B at: info@reveboutique.com or by phone at 201-500-7271. You'll be looking and feeling your all-time personal best!
*A 3-Hour initial closet edit and a follow-up costs $500 and a seasonal refresh and one-on-one shopping is $150 an hour.
By Dana Prigge'
Dailyfashionista.com